Discover the Recipe for the Ideal Kitchen Setup! 🍳✨ In our latest article, we unveil the must-have features that turn an ordinary kitchen into a dream space. From clever storage solutions for smaller kitchens to the allure of kitchen islands, efficient dual sinks, and the latest trend in range cookers, we'll guide you through crafting the perfect culinary haven. Explore stylish seating options, the revival of pantries, timeless hardwood floors, cozy wood burners, and the visual impact of mosaic tiles. Plus, learn about budget-friendly alternatives to achieve your dream kitchen without the fuss. Your ideal kitchen awaits – let's cook up some inspiration!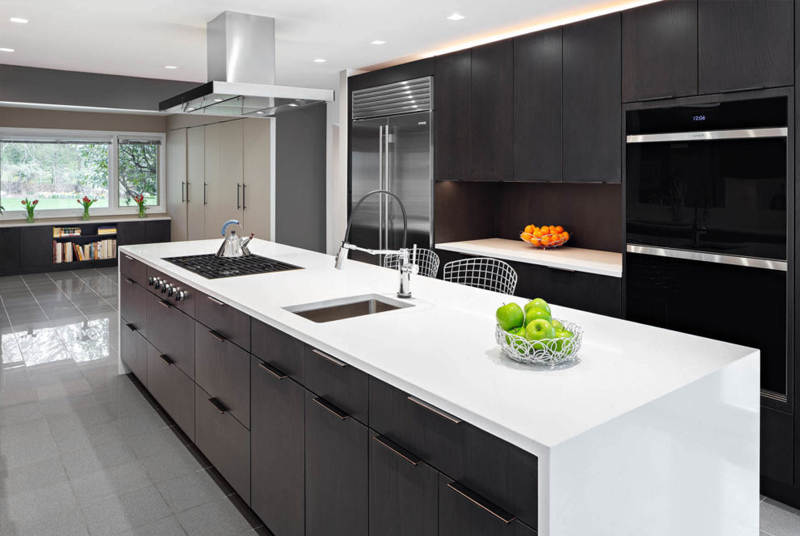 The kitchen is more than just a room in your home; it's the heart of your living space a place where you cook, share meals, and create cherished memories with family and friends. Considering its central role, it's no surprise that homeowners often view their kitchens as significant investments, occasionally embarking on renovations every 10 to 15 years. In this article, we'll take a closer look at the essential elements that constitute the perfect kitchen setup, ensuring that your kitchen remodeling project in Florida blends style, function, and comfort seamlessly.
Space: Breathing Room for Creativity
One of the most coveted features of an ideal kitchen setup is ample space. However, many kitchens in Florida homes are not as expansive as we might desire. If expanding your kitchen isn't feasible, consider incorporating vertical storage solutions like shelves and cupboards to optimize your available space. Smart storage solutions can transform even a compact kitchen into a more spacious and user-friendly environment, allowing you to navigate your culinary workspace with ease.
The Island: A Centerpiece of Activity
Kitchen islands have long been a sought-after addition on homeowners' wishlists. These versatile structures come in various sizes and shapes, offering generous food preparation space and discreet storage options. A well-designed island can also serve as a dining area when accompanied by tall stools, making it the ideal hub for both cooking and socializing. In smaller kitchens, custom-made islands can be tailored to fit your available space perfectly.
The Dual Sink: Efficiency Meets Convenience
For passionate home chefs, a dual sink is an indispensable feature. It facilitates efficient multitasking, such as washing ingredients while keeping up with dishwashing. In recent years, dual sinks have gained popularity, often equipped with waste disposal units for added convenience. This functionality enhances the kitchen's practicality, ensuring it remains clean and well-organized.
Seating: Where Gatherings Flourish
Modern kitchens have evolved into more than just places to cook; they've become spaces for dining and entertaining. High-quality kitchen dining sets, particularly large wooden tables with bench-style seating, have become popular choices among Florida homeowners. For those dealing with limited space, foldaway seating options can help maintain a clutter-free kitchen. Alternatively, consider introducing conservatory seating to create a charming dining area within your kitchen.
Pantries: A Contemporary Necessity
Pantries have been making a resurgence in modern kitchens, offering essential storage for canned and dry goods. Buying in bulk has become a popular way to save money, making a pantry a practical addition to your kitchen. Furthermore, pantries can boost the value of your home, as they are highly sought after by potential buyers.
Range Cookers: Embracing the Latest Trend
In 2023, range cookers are set to be a hot trend in kitchen remodeling. These appliances provide more cooking space, larger hobs, and multiple cavities, making them ideal for those who prefer bulk cooking to save time and energy. Range cookers can also contribute to heating your kitchen, serving a dual purpose while adding an elegant touch to your space.
The Floor Show: Timeless Hardwood Floors
Traditional hardwood floors are a popular choice among Florida homeowners, combining style and practicality seamlessly. While hardwood floors can be an investment, excellent laminate alternatives closely mimic their appearance. The durability and timeless appeal of hardwood or laminate flooring make it a valuable addition to your kitchen.
Wood Burners: Cozying Up Your Kitchen
Wood or log burners are beloved in many homes, often found in living rooms. However, an increasing number of people in Florida are now considering them as alternatives to radiators in their kitchens. These burners offer efficient heating but require professional installation to ensure proper ventilation. They add both warmth and charm to your kitchen, making it a cozier and inviting space.
Mosaic Tiles: Adding a Splash of Color
Mosaic tiles have replaced plain kitchen tiles as a means to create stunning feature walls. They inject vibrant colors and style into your kitchen, transforming it into a visual masterpiece. If tiling your kitchen walls seems daunting, consider laminate wall coverings that offer the same aesthetic appeal. Mosaic tiles can also be used as flooring to give your kitchen a unique and exotic ambiance without exceeding your budget.
Kitchens Without Compromises
Turning your dream kitchen into reality may seem daunting and costly. However, there are budget-friendly alternatives to a full kitchen remodel. Renovations Plus of Naples, a trusted remodeling company, offers kitchen refacing services. This allows you to update your kitchen without the hassle of removing existing units. Their service replaces worktops, cupboard doors, drawer fronts, and fixtures and fittings, giving your kitchen a fresh and stylish look within your budget.
Conclusion
Designing the perfect kitchen is a personal journey that balances functionality, style, and comfort. While achieving your dream kitchen may seem out of reach, these key features can help you create an ideal kitchen setup that suits your lifestyle and budget. Whether it's optimizing space, incorporating a versatile island, or embracing modern conveniences like range cookers and mosaic tiles, your kitchen can become a haven for cooking, dining, and creating lasting memories with your loved ones. When considering your kitchen remodeling project in Florida, remember that the heart of your home deserves the best.
Author: Renovations Plus of Naples