Video editing has expanded beyond the professional scope and now has been adopted by amateur videographers and hobbyists who just do it because they love it. Especially at this time, this particular skill is giving birth to new professions like YouTube Stars, amateur film or documentary makers, and ad-makers who are working on a freelance basis.
There was a time when video editing was an exclusive and expensive skill that required expensive equipment and softwares to edit videos to a publishable standard. But thanks to modern advancements in the fields of software development, we now have access to powerful free softwares that have surpassed their ancient and expensive predecessors. Not only they are easy to use, but they are also freely available for anyone to use with a plethora of features that cover almost all aspects of video editing which previously freely-available softwares lacked.
Gone are the days when you were required to pay a small fortune or a monthly subscription fee to keep using video editing software. Irrespective of your platform, we have compiled a list of best free video editing software; these are the best available open-source video editing softwares. Whether you need video editing software for windows or video editing software for Mac, these free video editors are sure to meet your expectations. After gaining proficiency in these free softwares, you too can call yourself a semi-pro. As these softwares pack quite a punch and have powerful features that make them stand on par with those expensive softwares.
Let's get going and explore these free powerhouses that can arm you with the skill to edit videos for yourself and others; enabling you to make a pretty penny in the process if you can play your cards just right.
1. Lightworks
The heaviest and perhaps the most powerful and most recognized software on this list; Lightworks is available for Windows, MacOS, and Linux. Would you believe us if we said that this non-linear editing system from EditShare has been used in Hollywood? Well, it has been, since it has both free and premium features and tools that make this one powerful software which has been used in movies such as Pulp Fiction, Hugo, The Wolf of Wall Street, and LA Confidential.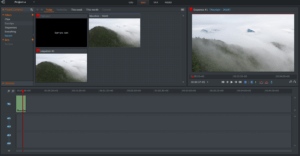 The software has a number of notable features which include:
Color correction equal to the professional level.
Real-time GPU-Accelerated effects.
Video capture.
An all-encompassing video format support.
Traditional tools for importing and trimming of videos along with seamless weaving of audio and video with easy to use options (merely a few clicks worth efforts).
The only limitation of the free version is that it can only export videos of MPEG-4 files with a resolution of up to 720P. But other amazing features make up for that in free versions which include the software's instant auto-saving feature that keeps working automatically in the background. Lightworks also grants its users the ability to select either Avid or Final Cut Pro keyboard layouts if the user is having a problem with the default design.
Because of the open-source nature of the software along with the steep learning curve (associated with the free version), the forums of Lightworks are always more bustling than many other softwares of this type. Since we already mentioned the steep learning curve, the users need to be somewhat tech-savvy to truly understand and adopt the true potential of Lightworks. The learning may take some time but the tradeoff is worth it. You can learn to create professional-quality/level videos without the expense of a single penny. But at any time you decide you want an even enhanced experience, you can always upgrade to the pro version.
2. Hitfilm Express
A powerful software that caters to both, amateurs and experts alike. With its powerful tools and free availability, Hitfilm Express had made professional-level video editing software available to everyone. Available for Mac and Windows, it allows users to create modern effects (like Star Wars and West World). It hosts 180 pre-made visual effects with the option to purchase additional effects and other packages while also being effective at composing 2/3-D projects.
Using it won't be as difficult thanks to tutorials and training videos that provide a step by step guide. So if your focus is to make your videos more appealing and attract new viewers thanks to amazing effects that will make your video look cool, then Hitfilm Express is the right video editing software for you. it is available in both, free and premium; with free version being quite powerful. The tools are of professional-grade which means high system requirements. So if you want to add the shimmer of a professional touch to your videos, make sure that your PC packs a punch. Another downside is that it has a rather complex installation process. You also need to share a link to the developer of Hitfilm Express (FXhome) on your social media.
3. Shortcut
Available on Mac, Windows, and Linux, it is a simple yet very efficient video editor that can act as a compendium for the at-home hobbyist with extended compatibility and a simple yet highly customizable interface. It started off as a free video editor on Linux but after a few years of being around, it was ported over to Windows and Mac OS.
Regarded as one of the best free video editing software, it has some easy and intuitive aspects like how you can simply drag a media file to import it into the project, but the learning curve as steeper in comparison to many other video editing softwares (an example being configuring the display by adding the modules they need at the time; users can dock as many panels as they want to have particular editing tools right for the job). It is because of this feature that many professional video editors use Shortcut for their own personalized projects. Despite that, even if you are an amateur, once you have your hand adjusted to this powerhouse of video editor, you will begin to understand why and how has this software amassed such a huge following of dedicated video editors.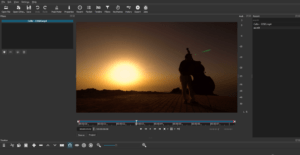 The crown of the jewel would be the large selection of filters for both, audio and video content. You can add up layers and keep customizing filters to achieve the desired effect you want in your video. It also supports the majority of formats (more than hundred) thanks to FFmpeg project; this makes it easy to use and capture videos directly from the computer and provides support for up to 4K-resolution.
4. Apple iMovie
This one is exclusive for Mac users along with being best and free video editing software for Mac. Let's start with its professional-looking themes and trailers that had Mac user entranced. This free video editing software for Mac offers loads of audio tools while also providing support for 4K videos.
Although it lacks some key features, including Multicam, motion tracing, and 360◦ features. There are only limited output controls but it makes up for this by delivering amazing themes, Hollywood-styled trailers. It provides video effects with minimalistic flamboyance but with a cinematic finesse that provides deep integration and optimization with Mac. Current updates have made adjustments to the interface and added a touch bar support for current versions of Mac.
Despite limited control over output setting and lack of many features that are present are similar softwares, you have the power of editing and sharing 4K-videos. One of the best features includes it being deeply intertwined with MacOS and being one of the fastest apps when it came to encoding videos. There are also options for sharing videos directly to platforms such as YouTube and Vimeo. You can even use any video frame as an image.
5. VideoPad
It won't be wrong if we said that majority of video editing softwares are being used to make videos for social media platforms. Whether it is YouTube, Facebook, TikTok, or any other medium; VideoPad has you covered on both, Windows and Mac. Now, exporting your creations (to Dropbox, Flicker, Google Drive, Facebook, YouTube, or other devices such as Smartphones or tablets) is as easy as pie. But for that, you have to sign in to those services. While uploading to YouTube directly is an option, to upload on social media platforms, you need to have our video converted to specs of the platform and you will have to upload it yourself.
Since the software has a soothing and simple interface, it gives off friendly vibes that make this free video editor ideal for novice designers. It allows you to edit 360-degree videos with same feasibility as it offers for normal/traditional 2D videos. Although you need to purchase a few add-ons for additional features that you will find in some other software (Multicam editing, high-end special effects, motion tracking, etc), it makes up for it by being systematically ideal for uploading videos online directly on social media platforms.
6. Blender
Blender is much more than a video editing tool; in reality, it is a well-reputed and recognized tool for animation, 3D sculpting, and even as a benchmark for new PC hardware. Besides these amazing applications, it also serves as free and powerful video editing software with a variety of tools.
Besides its famous and advanced 3D features, you can also perform cuts and splices along an intuitive and detailed timeline. Tasks such as video masking and color grading allow the users to turn their videos exactly how they want them to. Supplementary features include: Audio mixing, Video speed controls, A variety of features (filters and transitions), Options to enhance the outlook and feel of a video.
7. DaVinci Resolve
An amazing free video editing software that is perfect for advanced enthusiasts that put no watermark or limit on their services. The interface is intuitive for common routine editing functions and exquisitely deep app for color grading, audio production, and composition.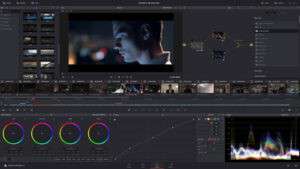 Albeit an amazing app with many features, the learning curve for advanced features is quite steep and there is no option for directly exporting to social media platforms. But it still stands as very powerful software aimed towards highly experienced and tech-savvy individuals. Pro-level cross-platform software that demands discrete graphics that offers more than what meets the eye.
In the current version of DaVinci, it incorporates a previously standalone app called Fusion. This brings four ultra-high video production modules that are useful for editing, coloring, audio production, videos effects, color correction, and motion graphics.
As for the learning curve, the software comes with a 256-page long manual but offers such a variety of features that can put you on the level with professional video editing software.
Honorable mentions:
Although the above mentioned free video editing softwares are among the best of the best, we still believe there are a few others that need a shout-out due to their free availability and amazing features that benefit users all around the globe.
VSDC
Openshot
Avidemux
Invideo
Machete Video Editor Lite
Freemake Video Converter
Quik
Adobe Premiere Rush
Horizon
Promo.com
We believe this should suffice. These softwares are tried and tested over and over again by our experts and found to be best among all the freely available video editing software. It now boils down to one thing and that is what your exact requirement is. Assess for need and crosscheck it with the features offered in the free softwares we have listed. Mind the learning curve if you lack the technical skills or have difficulty learning such softwares on your own.
But this is more about learning, experimenting, and expanding the boundaries of your video editing skills. These free open source video editing softwares a variety of specified softwares, including best free video editing software for YouTube. So have fun, experiment around, watch a ton of tutorials and create something new and amazing.
If you are in need of good video editing workstation please visit our store.