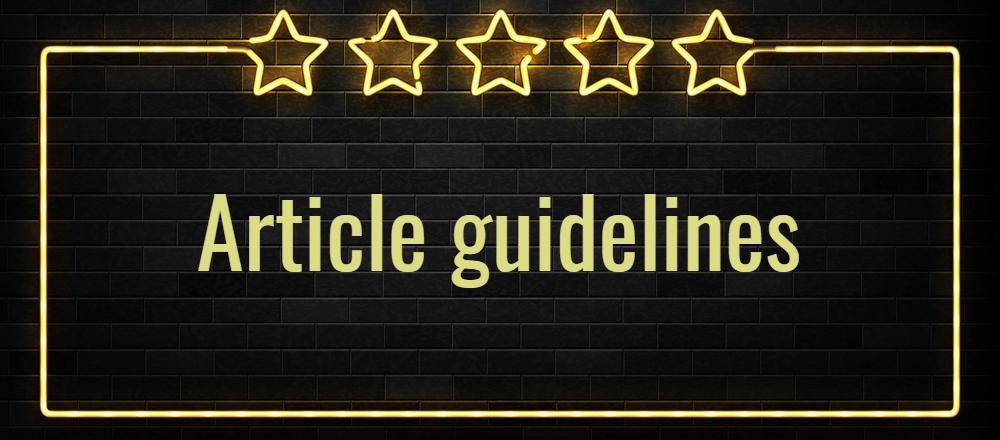 Article guidelines
How has it come to this?
There was a time when everyone who contacted us regarding article submissions would receive a beautiful hand-crafted reply. Unfortunately, in recent times Intently has been deluged with emails relating to articles, and it has become impossible to reply to everyone in the way we would like.
We are contacted by a huge number of people who want to place an article for $5 (that's not going to happen, sorry), or who want to submit articles of a very low quality, or articles relating to casinos or other industries that we do not deal with. Many of the emails we receive are clearly automated. We estimate that for every 500 emails received, just one results in a published article. For this reason, we are having to direct everyone to this page which sets out
everything you need to know about articles on Intently
.
Pricing
If you already have a subscription with us, then article submission is free. If not, then we charge £40 GBP (PayPal preferred).
Alternatively, if you are an Agency you may be interested in our Agency Subscription. This costs £80 GBP per quarter and allows you to list your business plus 10 of your clients, and you can also publish unlimited articles.
Pricing for bulk
We do not offer any price reductions for publishing articles in bulk, and besides (a) we are not really interested in publishing a large number of articles as it would dilute the quality of our content, and (b) none of our customers or prospective customers have ever produced a large number of articles anyway!
Negotiation
We do not negotiate on price. We are sorry about this, but we simply cannot get involved in price negotiations due to the volume of requests, especially when most negotiations do not result in an article being published.
Link exchanges and social shares
We will not consider link exchanges or social shares in return for article publication.
Inserting links into existing articles
We do not allow this, because existing articles are not ours to modify - they are owned by our customers.
Articles relating to casinos, loans, adult sites, essay mills ...
We don't allow such content, and we don't allow content relating to anything else illegal.
Article quality
If we allow content onto Intently that is of a low quality, then this harms Intently's reputation, and if Intently's reputation is harmed then this makes it a less attractive proposition to our customers. As such, we now have a policy that we will only allow articles to be published if they are of a high quality. This includes paying subscribers - articles must be of a high quality or they won't get onto our site.
Also note that search engines are unlikely to index articles of a low quality, so it really is in your interests to write something unique and interesting.
What does "high quality" mean?
We will use our own judgement as to whether an article should be published on Intently, but here are some simple checks:
Articles must be more than a few sentences, 600 words at least.
Articles must be informative and well written.
Articles must be free of spelling and grammatical errors.
Articles must not be blatant advertising for a specific company or product.
Follow / nofollow links
Links in articles are FOLLOW by default.
Number of links
There is no defined limit to the number of links you can have from an article. However, we would reject an article that is really full of links to the point of it looking a bit odd.
Submission process
If you are a paying subscriber, then we will be alerted as soon as you submit an article. We will then review the article and publish it if it passes the guidelines on this page. If your article does not pass our review, then we will notify you and explain why it did not pass.
If you are not a paying subscriber, then the process is different. Please submit your article and then pay £40 GBP to subscriptions@intently.co via PayPal. One receipt of payment, we will review your article. If the article does not pass our review, then we will refund your payment back to you and tell you why the article has not passed.
Authoring articles
We will not write your article for you, even if you pay us, sorry!
Links on our homepage
There are several ways of getting your link onto our homepage, if you are a paying subscriber. If you are not, then we charge £500 GBP per year or £1,500 GBP for a permanent link.
Banner advertising
We do not offer banner advertising.
Sponsored markings
Articles are not marked as sponsored.
Article expiration
If a payment is made for a specific article to be published (i.e. not as part of a subscription), then that article will remain visible on Intently permanently. If an article is published as part of a subscription, then that article will remain visible on Intently as long as the subscription remains active.
Samples
Samples can be found on our
Articles
page.
Turnaround time
We are usually able to publish articles within 24 hours of submission. Worst case would be around 48 hours.